Are you losing your ability to focus on fine print? This is a condition that actually is not that rare for adults. If it is becoming very difficult to see near you may have a condition called presbyopia.
In presbyopia, the elasticity of the lens in the eyes is reduced. The lens is located inside of the eye and is supported by intricate muscles to help it remain flexible. As the eye ages both the lens and the muscles supporting it become less flexible. This inflexibility makes it difficult for the eyes to focus.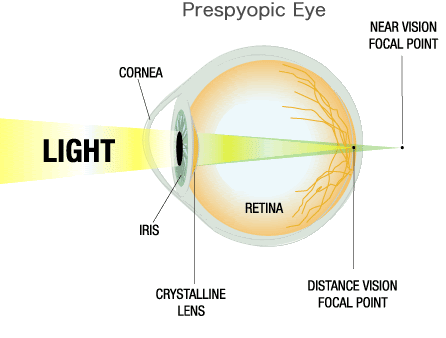 Most people notice a problem when they are unable to read fine print like they used to. This can be the case with any fine print that is read at a near distance. Commonly, people notice reduced focusing when reading a book, looking at a computer screen or while doing crafts.
Presbyopia typically begins in the mid 60's, but some people notice symptoms in their 40's. As they eye ages, the symptoms will increase. Adults who are nearsighted, (unable to see clear at a distance) can also develop the condition.
For some, dealing with presbyopia is a simple lifestyle change. Reading larger print or with more light can help inflexible lens focus better and make it easier to read. Many people find that holding items at a distance may improve vision, since presbyopia affects near vision. The majority of people use reading glasses when needing to see up close or use magnifiers. Adults with glasses for nearsightedness may switch to bifocal or progressive lens to improve their near vision.
There are some surgical options for presbyopia. Although LASIK does not correct the lens, using it to correct near sightedness in one eye only (monovision) is considered a treatment for some patients with presbyopia. Patients can also have lens replacement surgery, which replaces inflexible lens with an artificial equivalent. Also, many patients who receive cataract surgery often gain some relief from presbyopia as a result.
Presbyopia should be taken seriously. Ignoring it can lead to the development of eyestrain. Eyestrain can cause painful headaches and fatigue that are only relived by rest. Also, overworking the eyes can cause the symptoms to increase much faster.
If reading the fine print is becoming harder every day it may be the beginning of presbyopia. By seeing an ophthalmologist, it can easily be diagnosed, and appropriate accommodations can be made. With some little changes or perhaps even dramatic surgery, you can once again be able to see all the little things.
To get the latest strategies on finding the perfect Presbyopia be sure to visit us at presbyopia and take a look around.